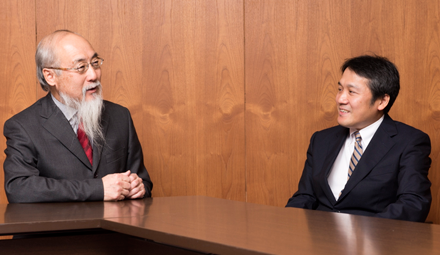 Assistant Professor Misu, what do you think of the current TJEM?
MISU: As a researcher, it's probably natural to really want to publish in big-name journals like Nature and Science. But what I felt from my experience with TJEM was the value in a particularly competitive field of getting an article to publication faster than anyone else and making it available to a larger number of people, and the advantage of having an option like that available in Japan. I think that if the content is solid, the type of journal isn't really a problem, and it will be quoted. And I think in fact it's possible to grow based on that. The article is the continuing gift to me of a tiny flame that will never die out. I don't think it's overstating things to say that the journal helped me cultivate myself.
SHIBAHARA: Those are very strong words. I can see the strong preferences researchers have. However, Japanese researchers strongly desire to submit papers to international journals that are published in foreign countries. They tend to look unreasonably poorly upon articles published in Japan, even if they have a good track record.
We asked Assistant Professor Misu about his future expectations for TJEM.
MISU: I don't want to be scolded for impertinence, but I hope that TJEM stays just as it is. TJEM conveys knowledge from Japan accurately and faster than anyone else. For young researchers, I think it has an equal or greater value to the most prestigious journals. I hope that young people can experience what I have experienced at TJEM.
Where will TJEM go in the future?
SHIBAHARA: As with the case of Dr. Misu, sometimes it's great to be the Editor-in-Chief, but it's often difficult. With an article acceptance rate of 20%, I get resentment from 80% of authors. I'm grateful to all the authors of articles that didn't get selected for choosing TJEM, and I hope that they will find the opinions of the referees useful as references for future research. Even authors from the university probably hate me (laughs).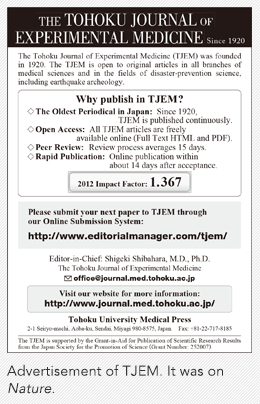 Since the number of online journals is increasing every year, a huge number of articles are popping up all over the world. In these times, I never stop worrying about what form TJEM should take and how it should be developed in the future. However, I don't think it's necessary to make big changes to the editorial policies we've had thus far, and I also want to put some effort into disaster science, which was just added to our area of coverage. I've realized that the 2011 Tohoku Earthquake and accompanying disastrous tsunami damage are essentially the second coming of the 869 Sanriku Earthquake, and this has given me a new understanding of the importance of keeping records and getting out information.
By establishing the "Tohoku University Medical Press", you were able to start receiving grants, which was a major support for publishing TJEM.
SHIBAHARA: We published it with the support of the Japan Society for the Promotion of Sciences' Grant-in-Aid for Scientific Research (abbreviated "Kakenhi" in Japanese) for "Scientific Periodicals (European Languages)". However, Kakenhi for Scientific Periodicals (European Languages) was abolished in the 2012 fiscal year. Fortunately, in the following year, the "Strengthening International Dissemination of Information" research result publication promotion fees were adopted (No.252007). With the aim of strengthening our editing system, we created a new system by placing three Executive Editors (Clinical, Foundational, and Disaster Sciences) under the Editor-in-Chief. Since we had added disaster sciences, from the perspective of disaster reduction and prevention, to TJEM's fields of research, it was necessary to construct a new editing system. Furthermore, we succeeded in converting TJEM to XML (publishing all texts online as HTML pages) (https://www.jstage.jst.go.jp/browse/tjem), and were able to hire a staff member. I am truly grateful to the Japan Society for the Promotion of Science.
Finally, we asked Dr. Shibahara about the future of TJEM.
SHIBAHARA: I have inherited the passions of the many doctors who have given their all since the first issue of TJEM, and despite my limited ability sincerely hope to contribute to TJEM's development as Editor-in-Chief.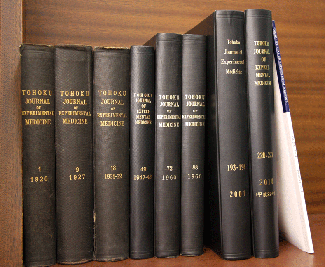 The presence of high-level academic journals is a measure of a country's culture. Considering Japan's international position, it is extremely important to publish academic journals with internationally important articles and distribute them on an international scale. There are hardly any examples in Japan of English language comprehensive medical journals such as TJEM that cover all areas of medicine, so I think there is great significance in continuing to publish TJEM. In particular, I believe that TJEM should also actively contribute to disaster prevention and mitigation through record keeping and the distribution of information regarding disasters.
The Tokyo Olympics will be held in 2020, coinciding with the 100th anniversary of TJEM's founding. There are concerns that the restoration of the disaster-stricken areas could be delayed, and I think we have to take this opportunity to further improve TJEM and enhance the ability to spread information from our country. TJEM's name begins with "Tohoku," and I hope that we can do whatever we can to contribute to the recovery of the Tohoku region.